Granada, Spain
IAHR World Congress, 2022
From Snow to Sea
19-24 June 2022
At the foot of the Sierra Nevada mountains, between the rivers Darro and Genil, lies one of the most fascinating cities in Eastern Andalusia. As well as its impressive Al-Andalus heritage, the city boasts Renaissance architectural gems and ultra-modern facilities, fit for the 21st century.
Granada has an unmistakable Moorish soul- it was the last city to be retaken by the Catholic monarchs in 1492. Its cuisine, crafts and urban planning are all influenced by its glorious past. Fountains, scenic  vistas and "Cármenes", houses surrounded by the city's distinctive, lush gardens, create unforgettable visual wonders throughout the city. It is no surprise that one of its oldest  quarters, the Albaicín, has been designated as a World Heritage site, alongside the Alhambra and the Generalife. It was an important cultural centre for many centuries under both the Moors and the Christians, and that rich cultural tradition endures to the present day. Permanent or temporary exhibitions on every field of knowledge complement film, music or theatre festivals. Seminars, conferences and discussions take place in old Renaissance palaces, while sleek, modern buildings packed with innovative technology, host great events.
Get to know Granada by neighbourhoods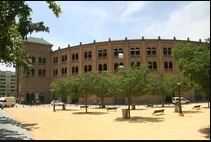 In the centuries that followed the Christian conquest, Granada began to expand beyond the ancient walls of the Arab city, …
Click here for more info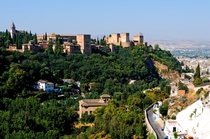 Sacromonte is Granada's most distinctive neighbourhood, known worldwide for its houses in caves and stunning views. It is also considered …
Click here for more info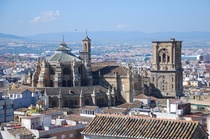 The monumentality of the Catholic Monarchs' favourite city is felt in impressive monuments like the Cathedral, a symbol of Granada's …
Click here for more info
Granada and its surroundings
In addition to the provincial capital and the region of Granada, there are a number of towns historically linked to the city of the Alhambra. These towns share its rich heritage and are located within the city's so-called green belt, an area filled with carefully tended parks and gardens. Some of these municipalities have played a crucial role in world history and culture, such as Santa Fe, a town created by the Catholic Kings to besiege Granada and where the Capitulations for the European discovery of the Americas were signed by Christopher Columbus. Another example is Fuente Vaqueros, the birthplace of Federico García Lorca, one of Spain's most famous poets and playwrights.